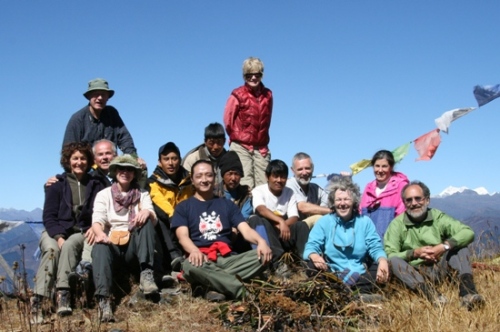 Bhutan Wild East Rodungla Trek experience with Bhutan Majestic Travel, October 2008.
Best Season: March, April, May, June, September, October and November.
Rodungla Trek is the second toughest trek in Bhutan.
The Trek group comprised of 7 British and 2 Americans and organized by Kudu Travel, UK based Travel Agent working as Tour Agent for Bhutan Majestic Travel.
Namgay Dorji, the Founder of Bhutan Majestic Travel leads many of the Treks in Bhutan and he is lead Trek Guide for our Rodungla Trek too.
Wild East Rodungla Trek is best sold trek in 2008 so come and join us in 2009, let the adventure go on……..
The 6 Night – 7 Days Trek starts from Kurjey, Bumthang and ends in Tangmachu, Lhuntse Valley covering Paro, Thimphu, Punakha, Wangdue, Trongsa, Bumthang, Mongar and Lhuntse Districts.   The duration of the whole trip is 19 days and sketch itinerary as follows:
Day1: Fly into Paro, Bhutan  from any of these cities; Bangkok, Delhi, Kathmandu or Kolkata. Overnight Paro.
Altitude of Paro is 2200m above sea level (ASL).
Day2:Â  Sightseeing around Paro and visits include; Paro Rinpung Dzong, National Museum, Drukgyal Dzong and walks in down town Paro.
Taktsang or Tiger's Nest
Day3: Hike to Tiger's Nest (Taktsang) 3100mtrs. The round trip takes 5 hours with vegetarian lunch stop over at Monastery's tea house. Taktsang is built in 8th Century and today its one of the National Treasure and most Holy Place for the Buddhist. PM drive to Thimphu, Capital city of Bhutan and drive takes 2hours. Overnight hotel in Thimphu. Altitude of Thimphu is same as Paro.
Day4: Thimphu Sightseeing
Visit includes Memorial Stupa, Nunnery, Mini Zoo, Traditional Paper Factory, and witness Bhutanese National Sport, Archery.
Evening Cocktail dinner at Namgay's house.

Dochula Pass
Day5: Thimphu – Punakha 3 hours drive. Altitude of Punakha is 1300mtrs.
One hours drive from Thimphu reach you to Dochula Pass 3150mtrs where one could see the Eastern Himalayas in a panoramic view and also 108 Buddhist Stupas at the pass, the most beautiful pass.
PM visit to the Punakha Dzong, built in between Pho (Male) and Mo (Female) Rivers. Hike to the Devine Madman's Temple of Fertility. The round trip hike takes 2 hours but very interesting as one gets blessing from Phallus of Lama Drukpa Kuenley (Devine Madman).
Overnight hotel in Punakha.
Day6: Punakha – Trongsa 4 hours drive. Altitude of Trongsa is 2100mtrs.
Detour to Phobjikha Valley and visit to Gangtey Gonpa, newly restored monastery dating back from 15th Century. Phobjikha valley is the winter nesting place for the endangered Black Necked Cranes who come here during winter from China, Tibet and Russia.
Photo and Natural break stop over at Pelela Pass 3300mtrs. Hot lunch will be served at Chendibji Tea House.

Chendibji Chorten
Chendibji host a Nepalese Style stupa dating back to 16th Century, the architecture is very much similar to Boudda and Shambunath in Kathmandu, Nepal.
Overnight hotel in Trongsa.
Day7: Trongsa – Bumthang – 3 hours drive. Altitude of Bumthang is 2500m.
Am visit historic and legendary Trongsa Chokhor Rabtentse Dzong. Stop over at Yotongla Pass 3400mtrs for Natural break and photo stop.
Short stop at Chhumey Traditional Weaving Center where one could see the weaving of Bhutanese textiles by means of two traditional weaving machines so called the back strap and horizontal. After lunch Free. Overnight hotel in Bumthang
Day8: Bumthang sightseeing
Visit to 7th Century Jambay Lhakhang, 8th Century Kurjey Monastery, 15th Century Tamshing Monastery, 17th Century Jakar Dzong.
Also visit Swiss Farm where they brew Red Panda Beer and produces Swiss Cheese. Overnight hotel in Bumthang.

Prayer Flags at Sunrise
Day9: Bumthang – Nga Lhakhang (1st Day of the Trek)
Walking Distance: 5 Hours Altitude of Nga Lhakhang 2800mtrs
Day10: Nga Lhakhang – Metsizampa via Phephela Pass 3450mtrs
Walking Distance: 6 Hours Altitude of Metsizampa 3000mtrs
Day11:Â  Metsizampa – Phokpey
Walking Distance: 7 Hours Altitude of Phokpey 3700mtrs
Day12: Phokpey – Pemi Camp via Khempe La 4035mtrs and Rodungla Pass 3800mtrs.
Walking Distance: 8 Hours Altitude of Pemi 3000mtrs.

Pemi Campsite
Day13: Pemi – Khini Lhakhang
Walking Distance: 6 Hours Altitude of Khini Lhakhang 2000 mtrs.
Visit to very remote community school.
Day14: Khini Lhakhang – Tangmachu
Walking Distance: 7 Hours Altitude of Tangmachu is 1600mtrs

Khinilhakhang Village
Day15: Tangmachu – Mongar 2 hours drive. Altitude of Mongar 1400mtrs.
Visit Lhuntse Dzong. Hot shower and Trek Celebrations at Mongar Hotel.
Day16: Mongar – Bumthang 7 hours drive via Thrumshingla Pass 3600mtrs.
Overnight hotel in Bumthang
Day17: Bumthang – Wangdue. Driving Distance 6 Hours. Altitude of Wangdue is as same as Punakha
Overnight hotel in Wangdue
Day18: Wangdue – Paro Driving Distance 5 Hours.
Lunch stop over in Thimphu and shopping. Overnight hotel in Paro.

Sunset
Day19: Depart Bhutan. Fly to Bangkok, Delhi, Kathmandu or Kolkata.
For more details of this tour please email us.
The minimum group size should be 4 Pax and maximum is 16 Pax.