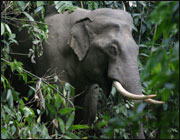 A recent issue that has fret farmers and caught the attention of the policy makers is the increasing incidents of wild animal attack on human and property.
Bhutan boasts of a pristine and protected environment, but the advantage has put many rural livelihoods into direct conflict with wildlife. Experts pin the wildlife-human conflict to the rapid population expansion and shrinking natural habitats. Recent incidents of bears attacking humans, elephants destroying crops, and Royal Bengal tigers prowling in close proximity to human settlements are clear signs of rural livelihood and wildlife coming into constant conflict in Bhutan.
Last month, forestry officials from the dzongkhags shared their experiences of human-wildlife conflicts in the dzongkhags with wildlife officials in Thimphu in an attempt to draw up a strategy to mediate the constant conflict.
According to the chief forest officer of Sarpang, Shacha Dorji, wild elephants destroyed 132 acres of land in 2007 alone. "The migratory elephants destroy crops, and property,"? he said adding that the worst was in 2005 when elephants destroyed about 265 acres of cropland in seven gewogs.
Trashigang district forest officer, K.B. Samal, said that in the last two months, wild bear killed twelve cattle and horses in Kangpara gewog. "Even people are under threat,"? he said. Officials said that many incidents could have gone unreported because of the remoteness of the human settlements.
Farmers across the country keep complaining of losing harvest to wild animals every year, while some even blame government policy of protecting wild animals for the loss. "Every year wild boars rampage the potato crops before we could harvest and we can't kill them,"? said Lhamu from Bjawalo village in Paro.
Farmers in Trongsa complained of having to lose all their hard work to wild animals because of conservation policies. "We spend all our time in growing crops only to see them destroyed in a single night by wild boars that come in group,"? said Tandin Tshering, 28, from Bemji village under Nubi gewog in Trongsa.
"Besides a hard day, we stay awake in the night to ward off wild animals that threaten the very source of our livelihood,"? he said.
Similarly, farmers in Dhur village under Chokhor gewog in Bumthang complained of wild boars destroying their potatoes, their main cash crop.
"Since there is no crop compensation, we don't have any options,"? said a farmer from Dhur. The chief forest officer of National Conservation Division (NCD), Sonam Wangyel Wang, said that the NCD implemented different strategies like compensating livestock depredations, damages of crops and 'off-set' to the farmers by providing fences, created awareness about the importance of these species in the eco-system and inculcate the value of conservation.
"We will see which method worked best and draw strategies based on that to be acceptable to both wildlife and human,"? he said.
A new rule in 2006 allowed farmers to shoot the animal that is within the field and farmers would not be penalised if the animal dies within 200 meters from the field's boundary.
Nature conservation specialist, Dr. Sangay Wangchuk, said that human-wildlife conflict is too complex to solve. "There is no way that NCD can solve the human-wildlife conflict. NCD can manage the conflict to an acceptable level where the impact would be reduced,"? he said.
In 2003, a livestock depredation compensation scheme was initiated for livestock killed by tiger, snow leopard, common leopard and bear. The NCD had spent about Nu. 0.438 million as compensation to livestock depredation in 2007 alone.
But lack of fund since 2006 forced authorities to compensate for livestock that were killed by more charismatic and endangered species like tiger and snow leopard.
However, no compensation was made for crop damages though the 86th session of the National Assembly resolved that farmers who suffer from 'major' crop damage by wild animals could be paid compensation.
The Bhutan Trust Fund (BTF) for environmental conservation approved Nu 8.7 million for the two and half year pilot project in 2002 to study wild pig management and conservation in two places – Thinleygang in Thimphu to be looked after by NCD and Bumdeling wildlife sanctuary in Trashiyangtse by National Plant Protection Centre (NPPC) in an attempt to find solutions.
Dr. Sangay Wangchuk said that there was an appreciable reduction in crop damage by wild boar after the implementation of the project.
"About 25 percent of the wild boar problem was mitigated by the wild boar management and conservation project,"? he said. "Through the project, we laid snares to trap and cull the wild boar, tracked their movements, breeding and other habits."?
According to nature conservation officials, while rural farmers living in close proximity and share resources with wildlife have their own share of misery, wildlife were equally threatened.
"Habitat destruction and fragmentation, retaliatory killing and poaching threaten the predators,"? said a NCD official, Sherab. "Therefore, a strategy is needed to solve this conflict."?
Human-wildlife conflict is nothing new, according to Sonam Wangyel. "It's one of the main threats to the continued survival of many species in Bhutan, as in many parts of the world,"? he said.
He said that since the human-wildlife conflict lead to the question of conservation or livelihood, it's important to mine out solutions from the fundamentals of human-wildlife conflict in local socio-economical and ecological context.
"Conservation should not be jeopardised and people should have no apprehension in conservation,"? he said.
A senior program officer in world wildlife fund, Bhutan, Vijay Moktan, said that though there is no concrete mechanism to answer the human-wildlife conflict, it is important that communities and policy and decision makers sit together with forestry and agriculture officials to solve the conflict.
"Conservation should not be at the cost of farmers' livelihood,"? he said.
The director general of forest department, Dawa Tshering, said that while threats from wild animals was a major issue, conservation could not be ignored. "We have to conserve the species for food waves. We can't eliminate one link of the food chain,"? he said. "The survival of the species is very important in balancing the eco-system."?
"If one link is broken, it will affect the food chain,"? he said. "To maintain the food chain, survival of all the species is necessary."? Source: Kuenselonline