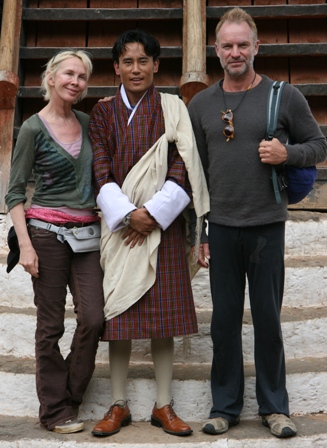 "Trudie – Namgay – Sting" inside Punakha Dzong.
Gordon Matthew Thomas Sumner, CBE (born October 2, 1951), universally known by his stage name Sting, is a Grammy Award-winning English musician from Wallsend in Newcastle upon Tyne.
Prior to starting his solo career, he was the principal songwriter, lead singer and bass player of the rock band The Police.
As a solo musician and member of The Police, Sting has sold over 105 million records, and received over sixteen Grammy Awards for his work.
Origin of nickname
Sting has stated that he gained his nickname while with the Phoenix Jazzmen. He once performed wearing a black and yellow sweater with hooped stripes that bandleader Gordon Solomon had noted made him look like a bumblebee; thus Sumner became "Sting." He uses Sting almost exclusively, except on official documents. In a press conference filmed in the movie Bring on the Night, he jokingly stated when referred to by a journalist as Gordon, "My children call me Sting, my mother calls me Sting, who is this Gordon character?"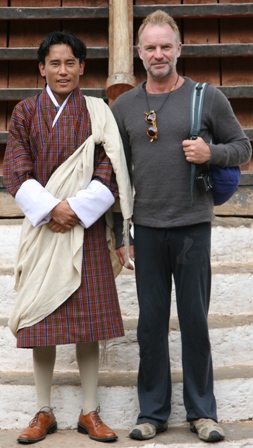 Sting Bhutan Experience;
Sting with wife Trudie and son Giacomo Luke were on a private holiday trip to the Himalayan Kingdom of Bhutan with us, Bhutan Majestic Travel along with their very close Family Friends Bobby Sager with wife Elaine, son Shane and daughter Tess. With 9 days tour they visited Paro, Thimphu and Punakha. They were accompanied and guided through the tour by Namgay Dorji, Founder and President of Bhutan Majestic Travel.
Both Sting and Sager Family enjoyed their private holiday trip to Bhutan enormously.
They mentioned that they would surely come back again with their family members and friends.
Apart from enjoying the scenic beauty of Bhutan and the Himalayas they visited the 17th Century Dzongs (Fortress), Museums, Ancient Monasteries and the highlight of the trip was the hike to Taktsang "Tiger's Nest" Monastery and the friendly Archery match played both in Paro and Punakha with the locals, using the traditional bamboo bows and arrows.
They were truly impressed by the quality of service and hospitality provided by Bhutan Majestic Travel and Namgay Dorji, and have no hesitation in recommending any other visitors to visit Bhutan through Bhutan Majestic Travel.
Both Sager and Sting Family's private holiday in Bhutan is to celebrate Historic 100 Years of Monarchy.
By the time the tour ended both Sager and Sting Family had built a strong bond of everlasting friendship and belonging with Namgay Dorji and Bhutan Majestic Travel.
Check out more on STING;