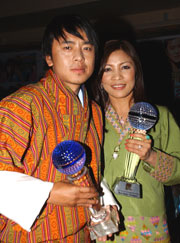 Best Actor Chencho Dorji and Best Actress Lhaki Dolma (Seday)
The movie 49th Day II bagged five awards, including best film, in the eighth National Film Festival Awards held in Thimphu on Saturday.
Seday took home four including best actor and actress. Thoepa Ga also won four, including best cultural film and best supporting actress. There were a total of 28 awards and 16 films in the competition.
Chencho Dorji won best lead actor for Seday while Lhaki Dolma, who started acting again after a three-year gap, took away best lead actress for the same film. "The last award I won was back in 2001 and it feels great to win again," gushed the beaming actress.
Pelden Dorji bagged the best director award for his film Kuzoo. He had also taken home the same award last year for his film Don't Tell Mom.
Young actress Namgay Dem's performance in Khando Drowa Zangmo bagged her best child artist. She also had a nomination in the same category for her film Rang Gi Sem. Dorji Wangmo took home the best story award for Rang Gi Sem.
It came as no surprise when Dechen Pem prevailed again as the best female playback singer for Yue Gi Bhu. She won in the same category last year for Sergyel. This is her seventh award since the first film festival in 2001. Undoubtedly, a fan favourite, Namgay Jigs, won best male playback singer for Seday.
Newcomers Jigme Wangchuk and Tshendu Zam took home the best debut awards for Arunachal Pradesh to Thimphu and Khando Drowa Zangmo, respectively. Tshendu Zam also won best actor in a negative role for the same film, while funny man Phurba Thinley won the best actor in a comic role for 49th Day II.
Like last year, this year's entertainment programmes were all performed by famous faces of the film industry fraternity.
Choreographer Karma Jerry and his dance troupe wowed spectators as they moved to a Michael Jackson inspired number. Fans and colleagues alike screamed and cheered when actor Chencho Dorji performed.
Jury members, who eviewed the films, consisted of people from the department of media and information and the motion picture association of Bhutan. The department of information and media sponsored the film festival.
5 Awards for 49th day II
Seday bagged 4 awards including best actor and actress
Best Playback singer (female): Dechen Pem
Best Playback singer (male): Namgay Jigs
Best COMEDIAN: Phurba Thinley
Best DEBUTANT (male): Jigme Wangchuk Best DEBUTANT (FEMALE): TSHENDU ZANGMO
Source: Kuenselonline