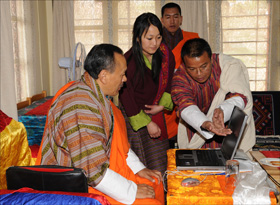 With a view to promote Dzongkha and encourage bilingual usage, the Dzongkha development commission (DDC) launched a new website on March 19.
The website www.dzongkha.gov.bt provides easy access to Dzongkha spellings, essays, grammar and English words that can be translated into Dzongkha.
DDC officiating secretary Pema Wangdi said that, through the Website, people having access to Internet can use Dzongkha efficiently, saving time and also cost of dictionary. "New Dzongkha words will be updated from time to time, including stories, proverbs, sayings and ballads," he said.
The prime minister, also chairman of DDC, Lyonchhoen Jigmi Y Thinley launched the new website following the commission's first meeting after the new government was elected. The education minister, Lyonpo Thakur S Powdyel and labour minister Lyonpo Dorji Wangdi, along with senior officials of the concerned departments, attended the meeting.
The commission discussed needs to popularise and promote the national language as a critical instrument of nationhood, to strengthen the commission secretariat with adequate human and material resources and the need to attract, train and retain bright Bhutanese to work as Dzongkha language teachers.
Lyonpo Thakur said that, to address the immediate need, the education ministry has launched the Light Druk Yul project, through which the ministry re-engaged a large number of retired, but still academically sound and physically fit, Dzongkha teachers as well as graduates from shedras and lobdras, and sent them to different part of the country after an intensive two-week crash course.
He added that, for the long term, the ministry would have to build a cadre of academically competent and professionally well-trained Dzongkha teachers of the type Semtokha used to produce long ago.
"We're also planning a teacher training college in the East which will have Dzongkha teacher preparation as focus area but, in general, we have to build better service conditions to attract, train and retain bright young men and women as teachers," he said.
Source: Kuenselonline