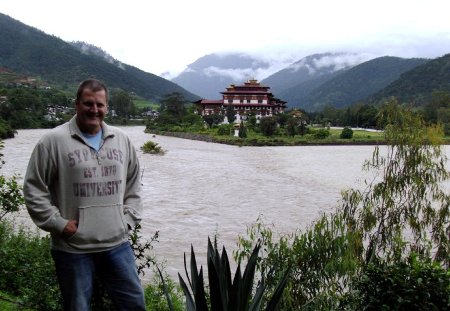 My Journey through Western Bhutan
by Christopher Braeuel, Canada, September 2010
I recall as a young boy decades ago lying in bed at night, examining with fascination the plastic globe my parents had bought me. Already curious about geography and different cultures, I often dreamed of what it would be like to explore the remote, mountainous region of the Himalayas. As I grew older, my interest only increased and I eventually made a personal commitment to one day visit Bhutan, the Land of the Dragon. In August of this year, the opportunity surfaced and my childhood dream came true.
Nestled in the Eastern Himalayas between India and China, this tiny kingdom remains a mystery to many foreigners. This is largely due to the fact that Bhutan not only boasts a population of less then 800,000 inhabitants, but was until recently inaccessible to the outside world. With unrivaled mountain views, breath taking natural vegetation, and some of the friendliest people on the face of the earth, Bhutan is truly a majestic paradise.
My six-day tour of this beautiful land was concentrated in the Western part, home of the capital city of Thimphu. Even though most days were overcast, which is not uncommon for the Monsoon season, this only accentuated the natural beauty of the mountains and forests. Hiking up the scenic hills to the 12th Century Tiger's Nest Buddhist monastery was one of the many highlights of my journey. In the many historic monasteries one can find a colorful array of fascinating Buddhist art and architecture. Monks of all ages will greet you with warm smiles, reinforcing the country's reputation for having the highest Gross National Happiness in the world.
The Bhutanese cuisine was another memorable highlight. A diverse mix of cardamom, ginger, chilies, garlic, turmeric and caraway, there is something for all flavour preferences. My personal favorites were the tasty dumplings, red rice, Ema Datshi (cheese cooked with spicy Chillies), and the traditional butter tea. After many days of hiking, I also took advantage of a relaxing Dot-so, a wooden outdoor mineral water bath heated with fire-roasted stones drawn from the mountain rivers.
I have had the privilege of visiting many countries across the globe and have always believed each posseses a unique beauty and memorable character. If there truly is a Heaven on Earth, it must be Bhutan.
If you are seeking a once in a lifetime experience, you must experience this spectacular land. I would like to thank Namgay Dorji, CEO of Bhutan Majestic Travel, and his team, for being part of my dream come true and for creating a memorable experience.