Welcome to Bhutan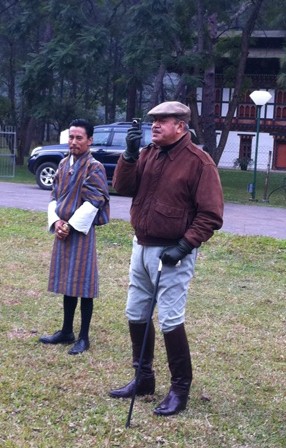 Late His Majesty the King of Tonga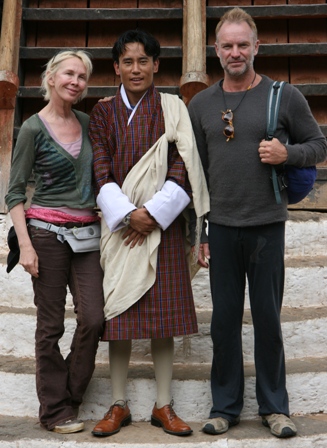 Dear Travelers,
You may all be aware that in Bhutan, the Royal Government of Bhutan is committed to the policy of High Value, Low Impact, minimal or no negative impact which does not undermine culture, promotes ecological conservation, equitable distribution of tourism benefits and social harmony. Bhutan Majestic Travel has over the past years catered our Personal, Professional and Dedicated Tour and Travel Services to many Guests, ranging from simple folks like ourselves, Royalties like His Majesty the King of Tonga, Diplomats like Dutch Ambassador to Bangladesh Mr.Hennekens & Family, Distinguished Business Tycoons like Hero Honda Chairman Mr. Munjal & Family, Celebrities like Singer STING & Family. These are just a few to name, as for other distinguished Guests, we are unable to disclose the names due to confidentiality reasons. Henceforth too, we will remain ever dedicated and caring to all our Guests traveling to Bhutan through Bhutan Majestic Travel. Each of our Guests are given our personal treatment, starting from arranging and making the tour itinerary to ultimately being there when they tour Bhutan. That is how over the years we have had many more Guest coming in, as our previous Happy guests recommend our Tour Company, and this recommendation has rippled and touched many people. Thus, we Sincerely Thank all our Guests who have traveled with us in the past, for their kind recommendations and helping us grow over these years. Beside this small introduction if you search our company through Google, YouTube and Twitter you will get to know more about us and our capabilities in organizing your Bhutan Holiday the BEST.
We wish you have a safe and memorable 2016 Holiday!
Thank You and Tashi Delek.
NAMGAY DORJI
FOUNDER

Bhutan Majestic Travel is registered with Tourism Council of Bhutan (TCB).
Namgay Dorji is also registered Cultural and Trekking Guide with Tourism Council of Bhutan.
Check out Namgay's photography from 42nd Smithsonian Folk life Festival 2008.
Please check out our daily news update from Bhutan under the News Page.
BEGUILED BY BHUTAN
Article on Star – Advertiser by Bob Jones
Bhutan 2016 Visit Bhutan Year Itinerary
IMPORTANT: New Guidelines on Tourist Visa for India
---
Welcome video message from the Founder

---
Himalayan Kingdom of Bhutan is unusual, unique and exotic. Bhutan Majestic Travel service provides personalized service and care. It defies definitions. The world travelers found it absorbing, mystical and captivating. So much has been said, written and read but a visit to our exotic destinations still remain a personal experience that will last a lifetime. Its ancient cultures, deep-rooted traditions, absorbing history, natural beauty, wondrous architecture, awe-inspiring palaces and forts add new dimensions to the pleasures of travel and vacation. The sights, both natural and man-made are beautiful and unforgettable. The Taktsang "Tiger's Nest" in Paro, Beautiful Punakha Dzong and Memorial Stupa in Thimphu with exquisite sculptures and carvings are considered work of art and masterpieces.
Bhutan Majestic Travel has been in the tour and travel business for many years. Our mission is to continually strive for excellence by offering the best value and service to our clients. We have to thank our many clients for the support they have given us over the years, and our success is the direct result of their repeat business and referrals. We have extensive experience in the Himalayan Kingdom of Bhutan and specialize in extraordinary adventure, discover the majestic beauty and the rich cultures of Bhutan through the legendary Bhutan Majestic Travel. We offer expanded packages and special customized Festival and cultural Tours. Each of our tour packages is designed with great degree of flexibility to meet the budget and expectations of individuals or groups. Our Treks are fully equipped with the best of gears with the support of the most experienced tour leaders and crew. We carry our own supplies and provisions to ensure quality food and comfortable accommodations that meet our high standards. Our local Tour Guides are among the best and the most experienced in culture, religion, history and geography of the region. They will guide you through unique places of cultural and historic significance and share with you interesting folklores, legends, myths and superstitions of the local people. We will make all of your arrangements, from choosing the right trip including air travel and trip extensions, until you depart from Bhutan. We provide you the highest quality of service, to assure you have a wonderful holiday in the Himalayas. Bhutan Majestic Travel enjoys the reputation as a first-class travel service provider known for its reliability and excellence in service with meticulous attention to details. We customize tours and treks to meet the needs of individuals and group with special areas of interests. Travel with us, our knowledgeable travel executives will strive to make your vacation a memorable one.
Here you will find the finest collection of tour packages. We are confident that you will find a package that meets your expectations. If not, we will customize a package just for you.
Whether your are a seasoned world traveler or one who will venture for the first time into the fascinating exotic destinations, travel with Bhutan Majestic Travel which has been in business for years, a company that is suggested by several prestigious guide books, numerous seasoned world travelers and knowledgeable professional travel agents. Over the years, Bhutan Majestic Travel has earned its reputation as a reliable and dependable tour company.
We are licensed with Tourism Council of Bhutan, Ministry of Trade and Industry, Royal Government of Bhutan. we are also executive member of ABTO (Association of Bhutanese Tour Operators).
Thank you for visiting our website and Tashi Delek!
Tourism Council of Bhutan(TCB)
Association of Bhutanese Tour Operators (ABTO)
Royal Bhutan Airlines (DRUK AIR)